Jennifer's Blog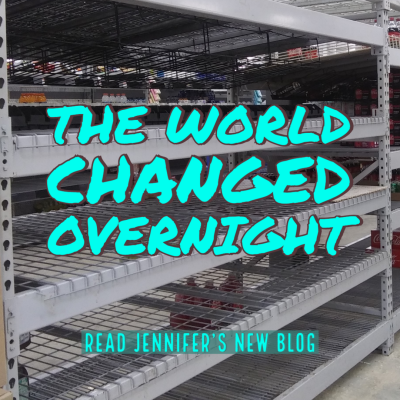 The World Changed Overnight
Last weekend, I went grocery shopping for the first time in nearly four months. Considering my underlying health conditions, my dad has been shopping for groceries while I stay in the vehicle. This method has worked out well, since it means that one of us is free of contaminants when it comes time to bring groceries into the house. No, we have not let our guard down. We are still wearing masks in public, and we are sanitizing our groceries when we bring them home. I just felt it was time that I saw for myself what the inside of the store was like after enduring four months of a pandemic. What I witnessed was a stark reminder of how the world has essentially changed overnight.

COVID-19 signs plastered the doors, aisle markers directed one-way traffic through the store, and special markers instructed shoppers where to stand in line to encourage social distancing. What a drastic difference to our last trip inside the grocery store together. Being that my dad and I love to cook and bake, it only makes sense that we also enjoy grocery shopping. Now, instead of a leisurely stroll through each aisle, we quickly grabbed the items on our list and vacated the premises. There is no fun found in looking at barren shelves, all while simultaneously trying to navigate between the shoppers with masks and those without.

A couple of months ago, someone commented to me concerning their disdain for the oft-repeated phrase, "a new normal," when it comes to the effect the COVID-19 pandemic has had on the entire world. Unfortunately, I believe we are now experiencing a "new normal," for it seems the "old normal" becomes more of a distant memory every single day. How fragile this world is for everything to be "normal" one day, only to rapidly change in a way we would have never expected. One single cell emerged to inflict a global pandemic upon the earth, adversely affecting the lives of millions of people.


Click Here to Read Jennifer's Full Blog Post

---