Jennifer's Blog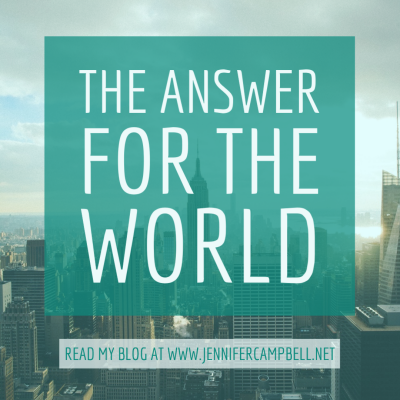 The Answer for the World
Right now, millions of people are longing to return to their normal, daily lives. The coronavirus pandemic has changed the way we live, the way some people think, and the way others act. From the essential workers on the frontlines to the people who are staying safe at home, each one of us likely has a plethora of questions swirling about our minds. There are those who ask, "How can I adequately protect myself and my family?" Others want to know what they can do about their loss of income during the lockdown. Sorrowfully, thousands of families are wondering why their loved ones had to die. In such unprecedented times, we may not have all of the answers, but there is One on whom we can rely. In a world filled with questions, Jesus Christ is the answer for the world.

COVID-19 has affected the world in a way we have never seen before, causing many people to ask, "Where is God in all of this?" They continuously complain about everything from social distancing to travel restrictions, and some individuals feel as if God has abandoned them in the midst of their suffering. Some people are depressed and many have become fearful, even to the point of refraining from ordinary day-to-day activities. Others have embraced new ways of doing everyday things, opting for grocery delivery services and curbside pickup at retail stores. For some people, walking into a business or doctor's office, seeing people wearing masks and other personal protective equipment, causes their anxiety levels to escalate to the point where their body involuntarily employs the physiological response known as fight or flight. Even now, as a large percentage of the world is under quarantine or stay-at-home orders, many people seem angry, discouraged, and confused. They do not know what to make of such widespread calamity going on around them.

For centuries, people have wondered why God would allow bad things to happen to good people.


Click Here to Read Jennifer's Full Blog Post

---